Benchmarks - Systems
SQLCache's performance has been benchmarked using Microsoft's Web Application Stress Tool. The details of syetems used for these tests are described below.
The Equipment used was as follows: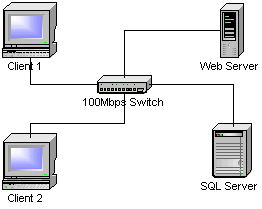 SQL Server
2 x PIII 600Mhz CPU
1 GB RAM
Ultra Wide SCSI2 raid controller; external disk system; RAID5 data volume.
OS disks SCSI2 RAID 1.
Windows 2000 Advanced Server SP2
MS SQL 2000 Server SP1.

Web Server
2 x PIII 900Mhz CPU
1 GB RAM
OS disks SCSI3 RAID 1.
Windows 2000 Advanced Server SP2
IIS 5 - Application protection low (the SQLCache OLE DB Provider runs in process for maximum performance)

Client machines
PIII 900Mhz CPU
1GB RAM
SCSI 3

Test Tool
Microsoft Web Application Stress Tool version 1.1 client version 1.1.293.1
Stress level = 20 threads
Stress multiplier = 10 sockets per thread
2 clients

---
© 2002. SQLCache.com